Fire Fighting with MAR
Below is a mock arena created for testing the robot for The Trinity College Fire Fighting Home Robot Contest application.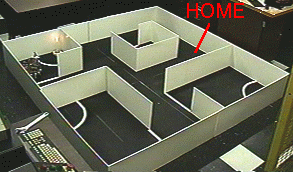 As can be seen, there are four rooms. A lit candle is placed randomly in one of the rooms. The robot must start from HOME position, and navigate the house looking for the candle. It has no prior knowledge of the location of the fire, thus making this objective more challenging. Notice that there are lines on the floor. The straight lines mark the entrance to each room. And the arcs mark the 1-foot radial distance from the candle. According to the contest rules, the robot must approach within 1-foot of the flame prior to extinguishing it to score any points. This prevents people from cheating by trying to flood the whole arena with a powerful fire-extinguisher from HOME position! :)
For more information on the The Trinity College Fire Fighting Home Robot Contest visit the its homepage.
To use MAR for this application, modifications were made to it. Below is the modified robot.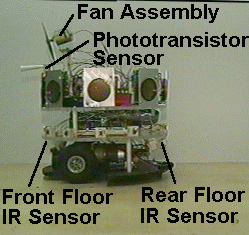 A fan assembly was mounted to serve as a fire extinguisher. A phototransistor sensor was used to detect and home-in on the candle flame. And two of its IR sensors were pointed downward to detect the lines and arcs of the arena.
With this configuration, the robot was programmed to move through the entire house and into each room looking for the candle. Its sonar sensors were used for positioning. Its IR sensors were used for wall avoidance and floor feature detection. Its phototransistor sensor allowed it to detect the flame and home-in on it. And, the fan was used to extinguish the candle after it had found it.
Video of MAR finding the candle in first room
Video of MAR finding the candle in second room
Video of MAR finding the candle in third room
Video of MAR finding the candle in fourth room
---
Copyright © 2002 Ericson Mar mar@cooper.edu Please let me know if you have any comments. :)
Last Updated: 3/30/99